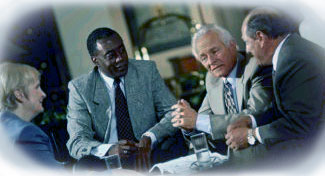 SERVICES

Crown Capital Advisors

is a boutique investment banking firm specializing in representing sellers of public and private middle-market businesses with revenues between $15 to $100 million in mergers, divestitures, re-capitalization and acquisitions. Crown has earned an excellent reputation for successfully initiating, negotiating, structuring and closing middle-market mergers, acquisitions and divestitures at purchase price premiums well in excess of industry norms. Crown has negotiated and structured a wide range of domestic and cross-border transactions including:
Partnerships / Joint Ventures
Crown Capital Advisors has completed transactions covering a wide range of industries and businesses of entrepreneurs, institutional investors and publicly-held companies. As a result, Crown has extensive experience across a broad range of industries.
Crown Capital Advisors experience has also resulted in Crown gaining an excellent reputation for presenting quality investment opportunities. Over the years, Crown has developed many relationships with strategic acquirers, private equity groups and other financial investors both domestically and internationally. Therefore, Crown can provide its clients with direct access to a network of the world's most aggressive and reputable acquirers and financing resources.